Meet Dr. Marcia B. Levi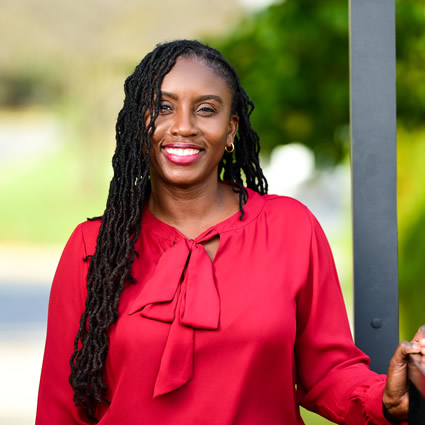 The best part of being a chiropractor is having the freedom to help people heal naturally. As the principal healthcare provider at Optimal Care Chiropractic, I offer chiropractic, physiotherapy and nutrition.
The Journey to Becoming a Chiropractor
Dr. Levi grew up in Guyana, South America, and came to the U.S. in 1995. She wanted to complete her degree in dietetics. She earned her first bachelor's in education and her second degree in dietetics.
"I was certain I was going to be a dietician and then go to medical school. On the path to medical school, I realized I disliked prescribing medication and tracking side effects. I did not want to perform surgeries or deliver babies all day long."
One of her professors at Emory University told Dr. Levi about Life University and Dr. Sid Williams, who established the chiropractic college.
Constantly Learning
Dr. Williams' philosophy of "above down, inside out" resonated with Dr. Levi deeply. She enrolled at Life University and graduated with her Doctor of Chiropractic in 2002. "I am in a constant state of learning and am always happy to share my knowledge with the community as well as learn from them."
Dr. Levi holds licenses in Maryland, New York and Georgia. She is also licensed for physiological therapeutics in Maryland.
Providing Dedicated, Compassionate Care
If you have felt that other practitioners were too clinical and impersonal, you will be pleased to know that Dr. Levi is the opposite. "I love to laugh and I am not afraid to pray openly with people." She considers herself the sister for some and the daughter for others. Dr. Levi's patients know that she is there for them and cares not only for their health but also what is going on in their personal lives.
EXPLORE CHIROPRACTIC
Opening an Oasis of Health
Dr. Levi's strong interest in the mindful movement led to the recent development of a motion studio-Optimal Oasis-to offer therapeutic massage, yoga, meditation and mindfulness workshops next door to Optimal Care Chiropractic.
A Presence in the Community
Who is a Packers shareholder?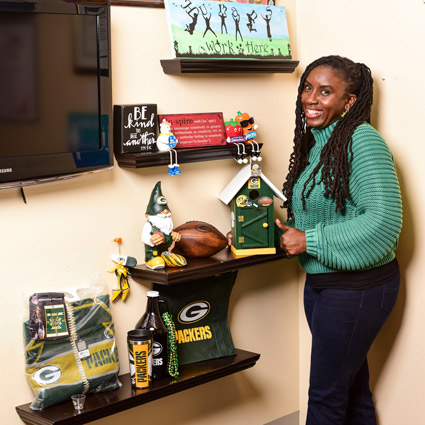 Dr. Levi is passionate about engaging in her community and state. She was appointed by the governor of Maryland to serve on the Maryland Chiropractic Associations board. She served in that role for seven years. Dr. Levi also received the Maryland Governor's Volunteer Service Certificate as well as an Academic & Community Engagement (ACE) Award from Prince George's Public Schools.
Dr. Levi is also well-known in the community for her public speaking engagements. She often speaks to private and public audiences on topics related to preventative care of the body and natural health.
There are three groups that Dr. Levi devotes considerable time to
Laurel Advocacy & Referral Services
First Generation College Bound
Building Families For Kids
She also is a sponsor of the Maryland Blue Jays ladies softball team who are based out of Bowie. Go Blue Jays!
Dr. Levi was excellent. I've already referred her services to several others!

Dr. Levi was excellent! She thoroughly explained everything to me, and talked to me about my future care and plan ahead. I'm so excited for my next appt with her.

Everyone is FRIENDLY and VERY PROFESSIONAL. I have recommended Optimal Care and Dr. levi to EVERYONE.

I am thoroughly impressed and look forward to feeling better with the help of Dr. Levi and her staff.

Dr. Levi and staff are absolutely amazing! I've been to a chiropractor before and never received treatment and service how they provide service. I love the fact that Dr. Levi provides more than just chiropractor services but nutrition and more! God bless!

The care I received from Dr. Levi and her staff is always professional and caring. I leave feeling my health has just been put in a good place. What more can you ask for. Thank you!

Loved the warmth and professionalism of all staff! Dr. Levi was absolutely amazing!

The staff is friendly and helpful. Dr. Levi listens to you and helps to get you to where you want to be.

Outstanding service and care. Dr. Levi is exceptional.

The service provided by Dr. Levi is outstanding. She is very knowledgeable, takes her time to explain things and cares about her patients health. She has an outstanding staff that is friendly, knowledgeable and make the visit enjoyable.

My experience was outstanding. Very nice office, staff are very friendly and professional. Dr. Levi is amazing and you can tell she loves taking care of her patients.

Dr. Levi and her staff are just simply wonderful!!

The staff was very nice, friendly, and helpful. I enjoyed my first visit and can't wait to come back for my follow up appointment.

Great demeanor and positive vibes!

Dr. Levi is very warm and knowledgeable about full body wellness. I learned a lot about my condition just in my first visit. I have already recommended Dr. Levi to many of my friends and thanked the person that recommended I be examined by her. I am confident I am on my way to a pain free future.

I enjoy the ambience created by the Doctor and her attentiveness to the needs of her patients. I will continue referring individuals in need of chiropractic wellness to the facility. Thank you so much Dr. Levi for your continued care and kindness throughout the years!

Dr. Levi and her staff were friendly warm welcoming from the front desk upon leaving. Dr . Levi show interest in knowing me and my concern. I'm hoping for nothing but the best.
Outside the Practice
As Dr. Levi lives in Laurel, it is common for her local patients to see her at the grocery store or out exercising. She loves living, working, serving and forging relationships with fellow residents of our city.
Book an Appointment
Contact Optimal Care Chiropractic today to schedule an appointment with Dr. Levi!

Dr. Marcia B. Levi | (301) 362-5868