Meet Dr. Loureen Gil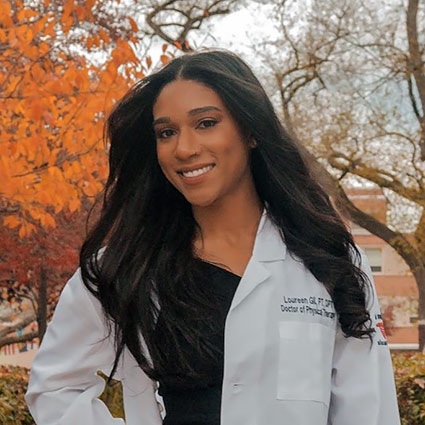 Dr. Loureen Gil is a proud first-generation college graduate, and a child of parents who emigrated from the Dominican Republic. Her interest in health care arose from witnessing preventable illnesses throughout childhood.
"My passion for merging both body and mind moved me to pursue a career as a physical therapist. I'm dedicated to providing an effective, holistic and overall wellness approach to all my patients.
The Path to Becoming a PT
Dr. Gil received her Bachelor of Science in Kinesiology from the University of Maryland, and obtained her Doctor of Physical Therapy at Howard University.
Customized Care That Gets Results
As your provider, Dr. Gil will begin your first visit by performing a detailed evaluation and integrating manual techniques with customized exercises and training to treat the root cause of the problem.
She is proud to offer physical therapy services to help improve the following:
Acute and chronic pain
Flexibility
Recovery from orthopedic surgeries
Other musculoskeletal conditions
Dr. Gil's goal is to help patients heal and return to doing what they love.
Book an Appointment
Contact us today to schedule an appointment with Dr. Gil!

Dr. Loureen Gil | (301) 362-5868